Regular price
$24.95
Sale price
$19.95
Unit price
$19.95
20%
Sale
Sold out
Supports Healthy Immune System.*
Supports Body's Natural Response to Inflammation.*
Supports Normal Joint Mobility and Flexibility.*
3rd Party Tested

Money Back guarantee

Free Shipping
View full details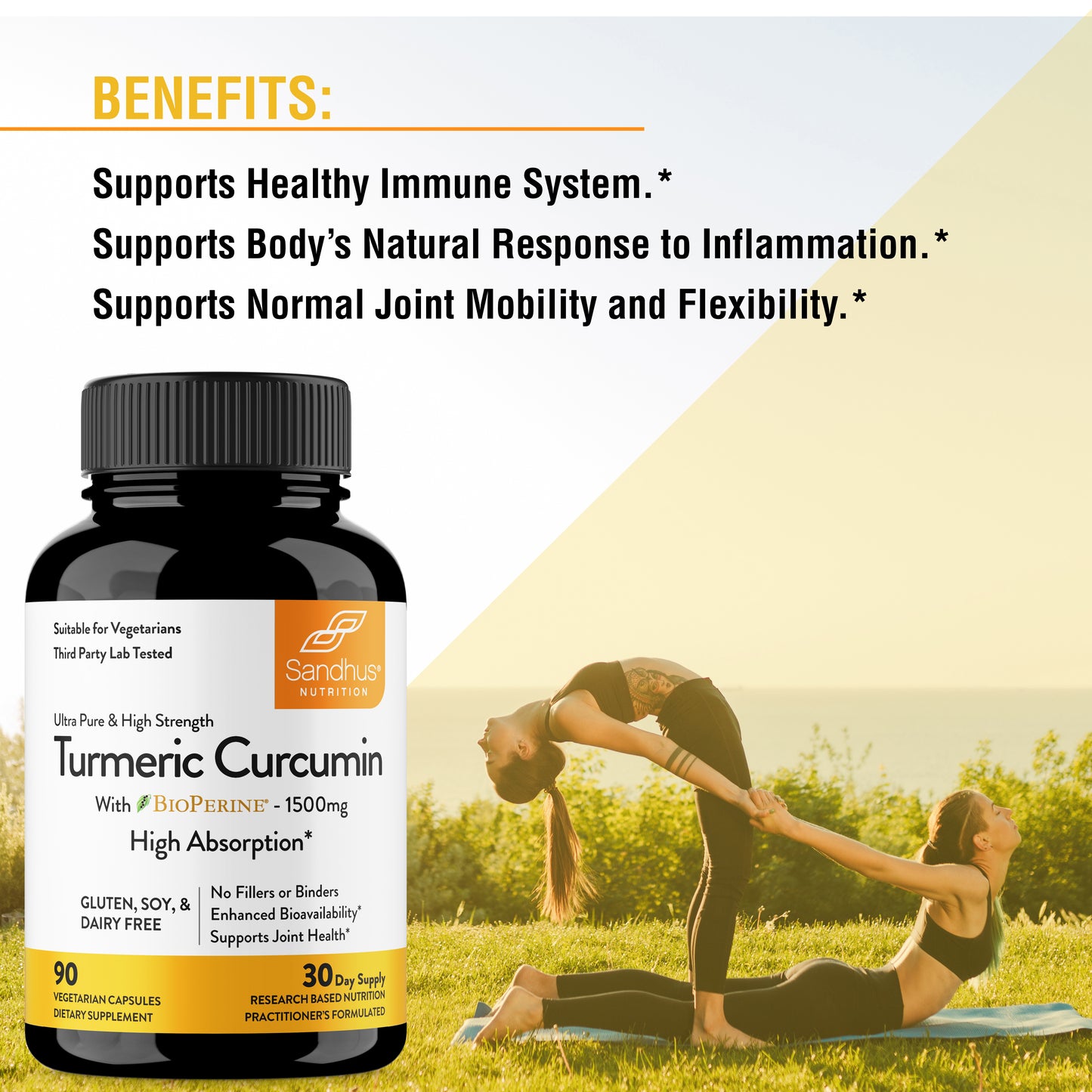 Collapsible content
Highlights

95% Standardized Curcuminoids containing Turmeric Extract.
High Absorbable Turmeric Curcumin Supplement.*
Easy to Swallow Capsules Suitable for Vegetarian.
Gluten-Free, Soy-Free, Dairy-Free, and Third-party Tested.
Formulated according to current Good Manufacturing Practices (cGMP).
Formulated, Tested, and Packed in the USA.
Suggested Usage

Take 3 capsules a day with food and water or as suggested by your health care provider.
Ingredients

Turmeric Powder (Curcuma Longa)(Root)
Turmeric Root Extract (Curcuma Longa)(Root)(95% Standardized Curcuminoids)
Black Pepper (Piper Nigrum) (Fruit) Extract (Bioperine®)

Other Ingredients: Vegetable Cellulose Capsules
Our Quality Promise
Formulated with research based ingredients to maximize results.

Each batch undergoes rigorous testing to ensure it meets our high standards when it comes to quality and effectiveness.
Why Sandhu's Turmeric Curcumin?​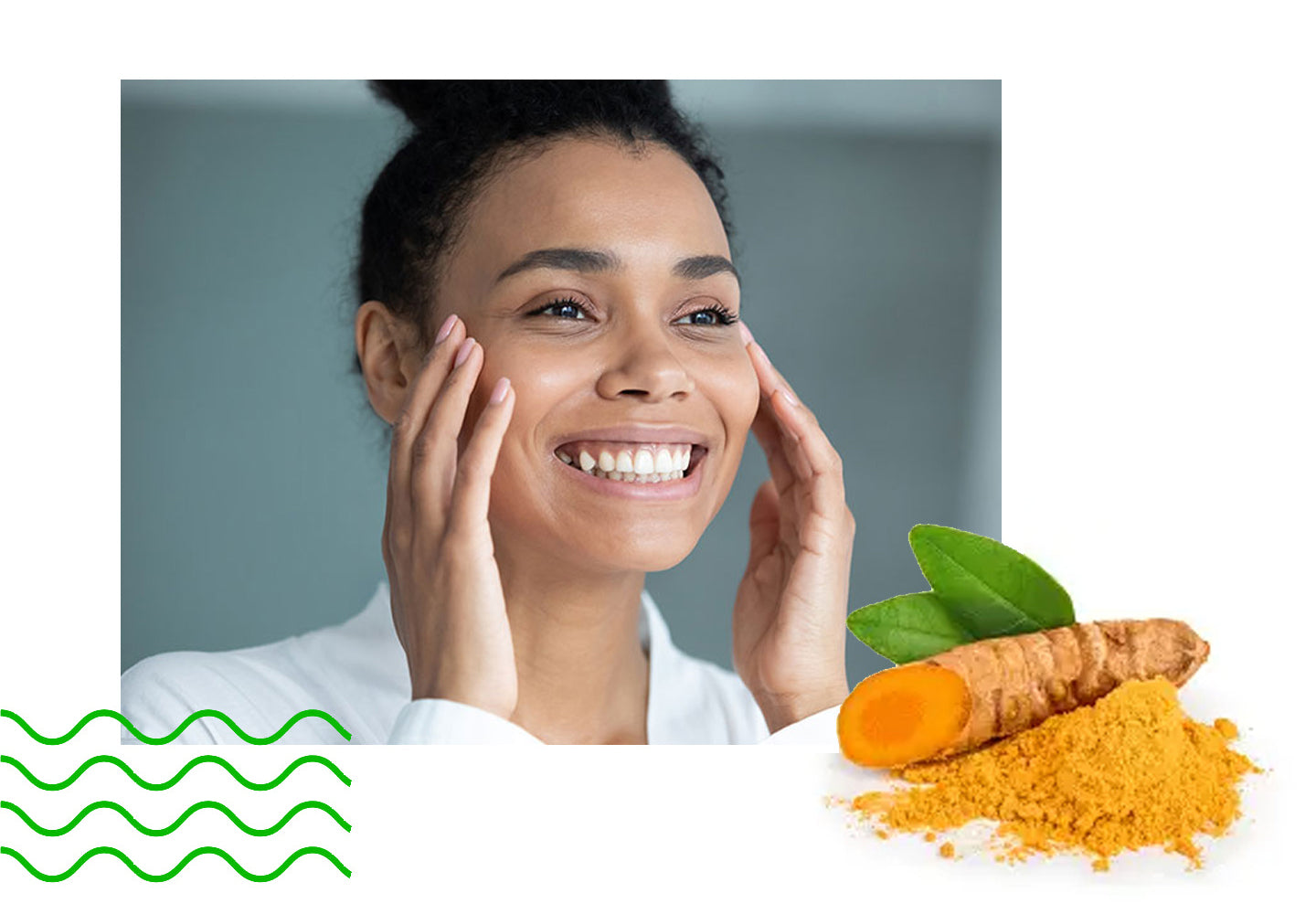 How Does Turmeric Curcumin Formulation Work?​
Description

Key Product Features and Benefits

Helps keep the immune system healthy, year-round*
Supports the body's natural response to inflammation*
Nourishes and supports normal joint mobility and flexibility*
Easy to swallow vegetarian capsules, for maximum absorption.
Suitable for Vegetarian and Vegan use.

 

Our formulation features 'Turmeric Curcumin' root powder and root extract standardized to 95% Curcuminoids, with the added benefits of BioPerine (black pepper) for enhanced absorption* From the farms to your family, we are in charge of processing, formulating and packaging, so that you receive the best quality nutritional supplements. 

Turmeric is considered one of the most effective nutritional supplements that has been used for thousands of years, both as a spice and medicinal herb. It contains compounds called curcuminoids, the most important of which is curcumin, an antioxidant* 

The curcumin content of turmeric is not that high which makes it difficult to experience the full benefits of curcumin by just using turmeric as a spice in your foods. If you want to experience the full benefits, you may need to take a supplement that contains significant amounts of curcumin. Curcumin is also poorly absorbed by the body and the addition of BioPerine (black pepper) is known to enhance the absorption of curcumin* 

Turmeric curcumin is known to provide active immune support for the body's key immune system functions. It is also renowned for its ability to nourish and support joint related immune health. Turmeric Curcumin may also protect cells throughout the body due to its antioxidant properties, and hence promotes cardiovascular, cognitive and digestive health* 

Feel the difference!

Science Based Nutrition: Inspired by nature, we continue to innovate and deliver an exceptionally pure line of science-based nutritional supplements, whose safety, efficacy and potency is guaranteed in every serving.

Third Party Tested: At Sandhu's, we strongly believe in transparency and quality assurance. All our ingredients and finished products, undergo rigorous testing by specialized third party laboratories to guarantee purity, potency and quality.

Quality You Can Trust: All our products are encapsulated, bottled and tested in the USA at our own state-of-the-art FDA registered, NSF certified, GMP-compliant manufacturing facility located in California.

 
Frequently Asked Questions
Is Turmeric a spice?

Turmeric is considered to be one of the most potent and scientifically studied cooking ingredient that have been used for thousands of years, both as a spice and ayurvedic herb.

Can curcumin from turmeric help with joint discomfort?

Curcumin, the active compound of turmeric has been studied for its ability to support and ease occasional joint discomfort.* However, individual results may vary, and it's best to consult with a healthcare professional to understand the cause of joint discomfort and for personalized advice.

Can Curcumin be absorbed effectively by the body?

Curcumin has low bioavailability, meaning that it is not easily absorbed and utilized by the body.* To enhance its absorption, Sandhu's Curcumin supplement contains Piperine (found in black pepper).* These can help increase Curcumin's bioavailability for better results.*

Can Curcumin supplements replace a diet?

Curcumin supplements are not intended to replace diet. It is important to maintain a balanced diet rich in a variety of fruits, vegetables, whole grains, and other nutrients to support overall health.

Is this suitable for vegetarian?

Yes, our turmeric curcumin supplement is suitable for vegetarian.

Total 5 star reviews: 4
Total 4 star reviews: 0
Total 3 star reviews: 0
Total 2 star reviews: 0
Total 1 star reviews: 0
100%
would recommend this product
Sandhus Nutrition

Wife likes it!

Sandhus Nutrition

Just what I was looking for!

Amazing!!

Did wonders for my immune system

Sandhus Nutrition

Good Vitamins
Reviews Loaded
Reviews Added