Regular price
Sale price
$39.95
Unit price
$39.95
Sale
Sold out
Supports Quick Onset & Restful Sleep.*
Supports Healthy Sleep/ Wake Patterns.*
Supports Brain & Immune Health.*

3rd Party Tested

Money Back guarantee

Free Shipping
View full details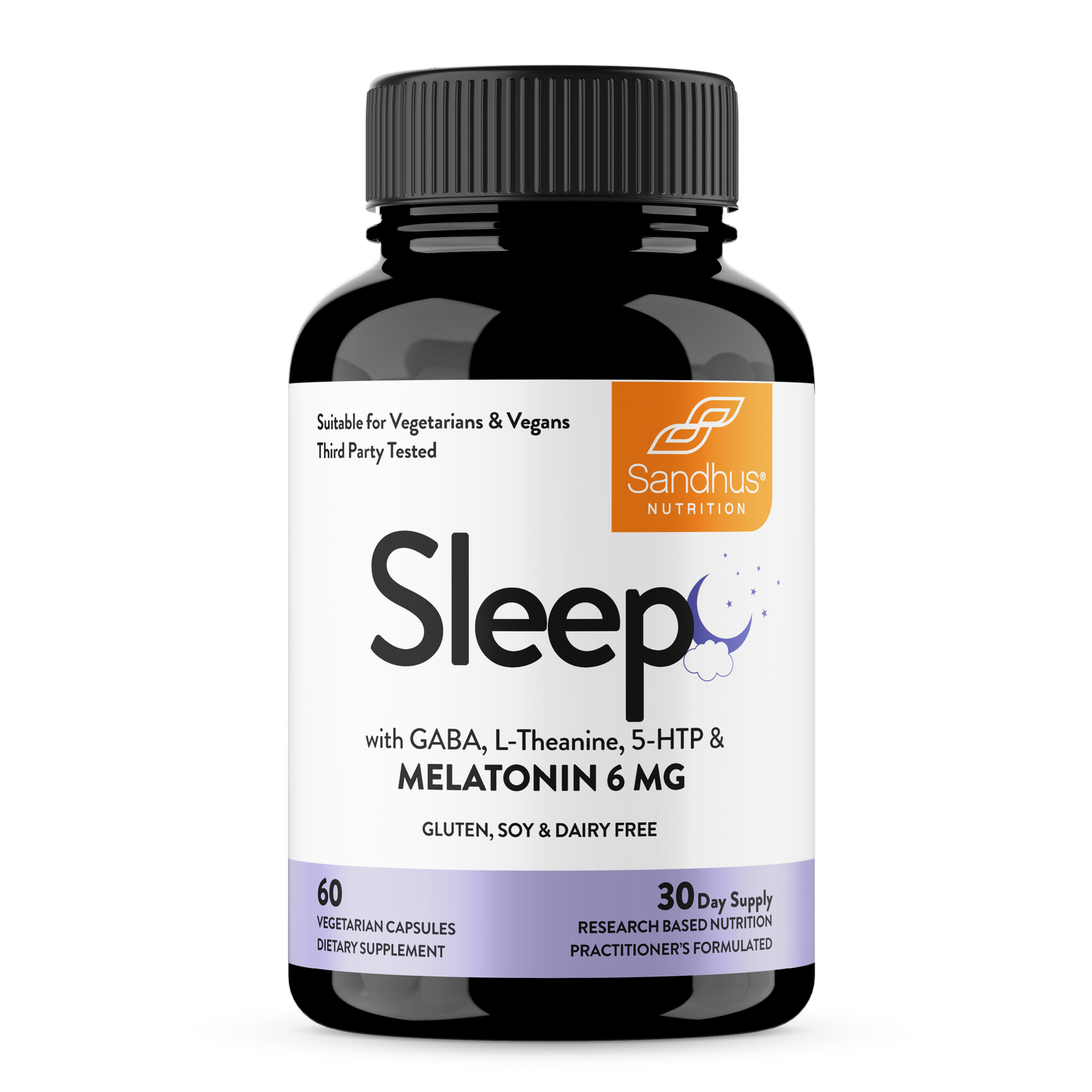 Collapsible content
Highlights

Science-Based Unique Formulation.
Contains Quality Amino Acids and Mineral.*
High Absorbable form of Magnesium (as Magnesium Citrate).*
Easy-to-Swallow Capsules suitable for Vegetarians.
Gluten Free, Soy Free, and Dairy Free, Tested by Third Party.
Formulated according to current Good Manufacturing Practices (cGMP).
Formulated, Tested, and Packed in the USA.
Suggested Usage

Take 2 capsules 30 minutes before bedtime or as directed by your healthcare professional.
Ingredients

Magnesium (as Magnesium Citrate), GABA (Gamma-Aminobutyric Acid), L-Theanine, 5-HTP (L-5-Hydroxytryptophan), and Melatonin.
Other ingredients: Vegetable Cellulose Capsules, Microcrystalline Cellulose, Magnesium Stearate.
Our Quality Promise
Formulated with research based ingredients to maximize results.

Each batch undergoes rigorous testing to ensure it meets our high standards when it comes to quality and effectiveness.
Why Sandhu's Sleep Supplement?​
Science Behind the Sleepezz's Ingredients?​
Description

Key Product Features and Benefits

Supports Quick Onset & Restful Sleep.*
Supports Healthy Sleep/ Wake Patterns.*
Supports Transition to Deep Sleep.*
Supports Brain & Immune Health.*
Formulated with Quality Amino Acids and Minerals.*
Suitable for Vegetarian Use.

 

Healthy Sleep, Healthy You

Sleep is an essential part of our daily routine and plays a critical role in our overall health and well-being. During sleep, our body repairs and rejuvenates itself, and our brain processes the information we have accumulated throughout the day. Modern population struggles to get enough quality sleep because of various lifestyles, diet, and stress. If you're struggling with sleep-related challenges, it's important to take action to improve the quality and quantity of your sleep. Enjoying restful quality sleep with a healthy sleep-wake pattern may be  simple when you consider adding Sandhu's safe sleep supplement.*

 

Transparency in Science

Why Gamma-Aminobutyric Acid (GABA)?

GABA is a naturally occurring amino acid that supports brain cell communication to regulate the body's metabolic actions which are essential for quality sleep and relaxation.*(1-3)

Why L-Theanine?

It is an amino acid, chemically similar to GABA, that supports calmness by controlling noises in your brain and helps to keep you clear and focused without a groggy feeling upon waking up.*(6,7,13)

Why Melatonin?

Melatonin is a non-habitant and sleep-friendly hormone that supports setting the natural alarm in your sleep-wake clock.* (5,8,9,19) It also supports maintaining a healthy brain.*(18)

Why 5-hydroxytryptophan (5-HTP)?

5-HTP acts as a serotonin precursor, which supports staying in a positive mood and getting into a cyclic sleep by regulating the happy hormone serotonin.*(4,11,12)

Why Magnesium?

Magnesium is an essential mineral that supports the transition to deep sleep by helping muscle and overall relaxation.*(10,14-18)

 

Why Sandhu's Sleep?

Science-Based Formulation.
Formulated with Quality Ingredients.
Easy to Swallow Vegetarian-Friendly Capsules.
Gluten, Soy, and Dairy-free product
Third-Party Tested.
Formulated, Tested, and Packed According to current Good Manufacturing Practices (cGMP).
Frequently Asked Questions
What are the common ingredient found in sleep supplements?

Melatonin is the common ingredient found in most sleep supplements.
Do sleep supplements work?

Sleep supplements will be effective for most individuals.* However, the effectiveness can vary depending on factors such as the individual's specific sleep issues, and the quality formulation of the supplement.*

Is sleep supplements safe?

Yes, sleep supplements are considered safe when taken as directed. However, it's important to be aware of potential interactions with medications or existing health conditions. It is advisable to consult with a healthcare professional before starting any new sleep supplement.

When should I take a sleep supplement?

Sandhu's supplements are designed to be taken 30 minutes before bedtime, while others may vary. Always, it is better to follow the instructions provided on the supplement packaging or consult with a healthcare professional for personalized recommendations.

Will I become dependent on sleep supplements?

Our sleep supplements are not habit-forming.* However, it's important to use them as directed and not exceed the recommended dosage. If you have concerns about dependency, it is advisable to speak with a healthcare professional.

Total 5 star reviews: 15
Total 4 star reviews: 1
Total 3 star reviews: 0
Total 2 star reviews: 0
Total 1 star reviews: 0
100%
would recommend this product
Love this supplement!

Fast shipping and it's a great melatonin supplement.

Great supplement and fast shipping

Good Product!

I like this product. It doesn't hurt my stomach. It is easy to swallow. It appears to offer quite a few benefits. I generally feel good when taking this, I would recommend this product!

Enhances Sleep Quality at a Great Price!

It works very well for me. It has definitely increased my sleep quality. I fall asleep faster with less wake-ups and no morning grogginess. I take 2 capsules 30 minutes before bedtime. The capsules are easy to swallow with no bad taste or odor. Great price, third - party tested, and made in the USA.
Reviews Loaded
Reviews Added